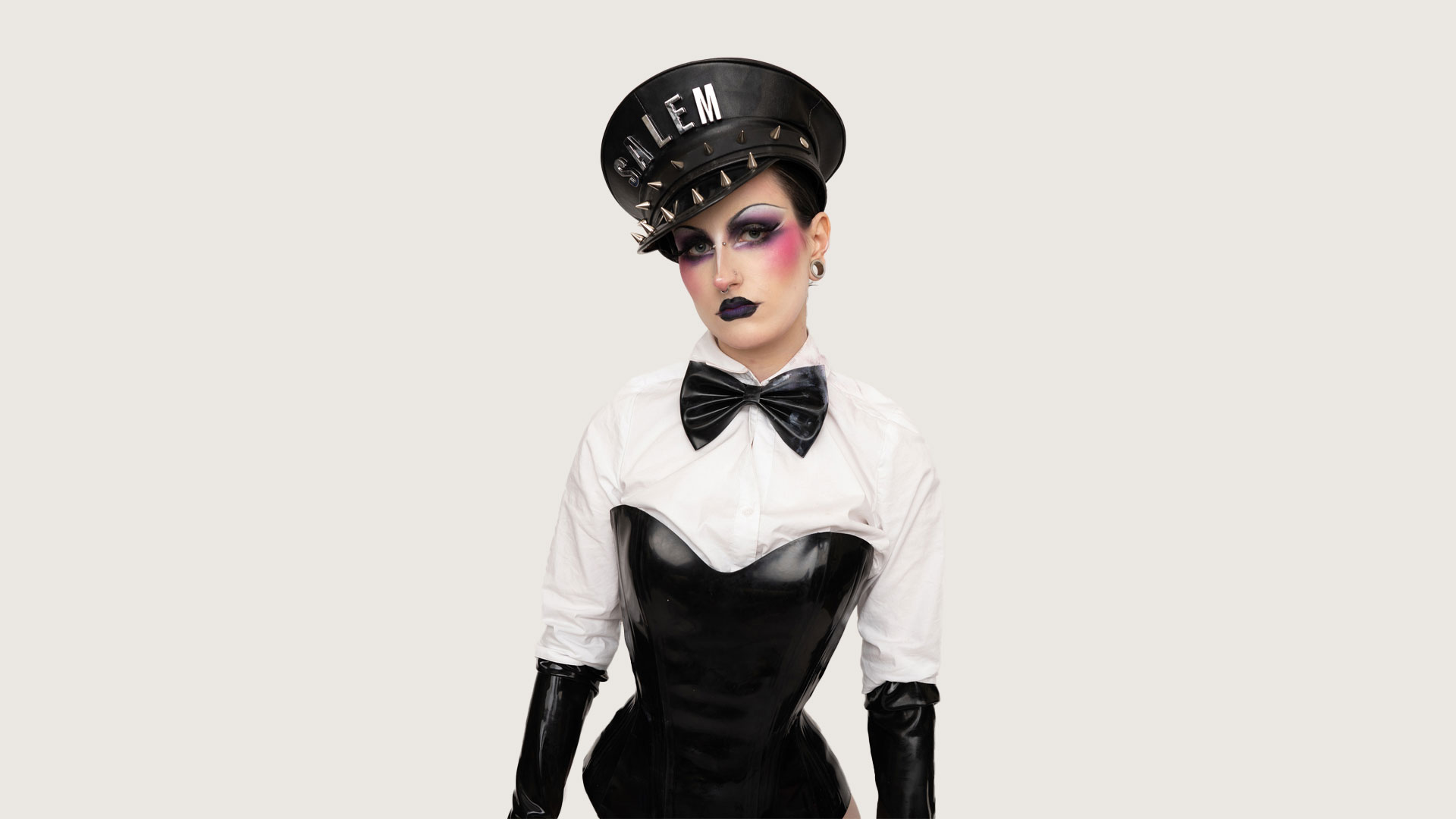 Folsom: Descent Into Desire
Saturday 14 October 2023
UBQ Collingwood
Explore your curiosities, push your boundaries, and celebrate the diversity of human desires
Confronting | Insightful | Salacious
Created and performed by: Biru Pup and local kinksters
Produced by: Biru Pup & Folsom Down Under
At Folsom: Descent Into Desire your journey begins in the artful ties and intricate knots of Shibari with our stunning live rope bondage exhibit. We invite you to witness the raw, poetic interplay of trust and tension that lies at the heart of this centuries-old practice. Adjacent to this, embrace the playful spirit of the pet play pavilion, where our puppies will captivate you with their energetic charm embodying escapism, and sheer joy
Move deeper into our venue and each room you enter becomes a step further into the world of kink. Each space, carefully curated, reveals a different facet of the spectrum of human sensuality. Every display is a testament to the different ways in which people experience and express their fetishes and kinks
Your journey is your own. Take a step, take a pause, explore, and luxuriate in the exhibitions as you please. Traverse every room, or dwell in the ones that resonate with your own unique desires. The choice is yours. For those brave souls willing to venture into the deepest recesses of the venue, a dark, tantalizing reward awaits: The Dungeon. A realm reserved for the truly bold, this space showcases the edgier, more extreme facets of BDSM play. The Dungeon is not for the faint of heart, but for those who dare, it promises an unforgettable experience
Folsom: Descent Into Desire celebrates the complexity and richness of human desire. We invite you to observe, learn, and perhaps awaken unexplored aspects of your own desires. Whether you're a seasoned participant or new to the scene, we welcome you to join us on this exploration of sensuality and self-expression
What: Folsom: Descent Into Desire
When: Saturday 14 October 2023, 1pm to 5pm
Where: UBQ, 108 Smith Street Collingwood VIC 3066
How much: free!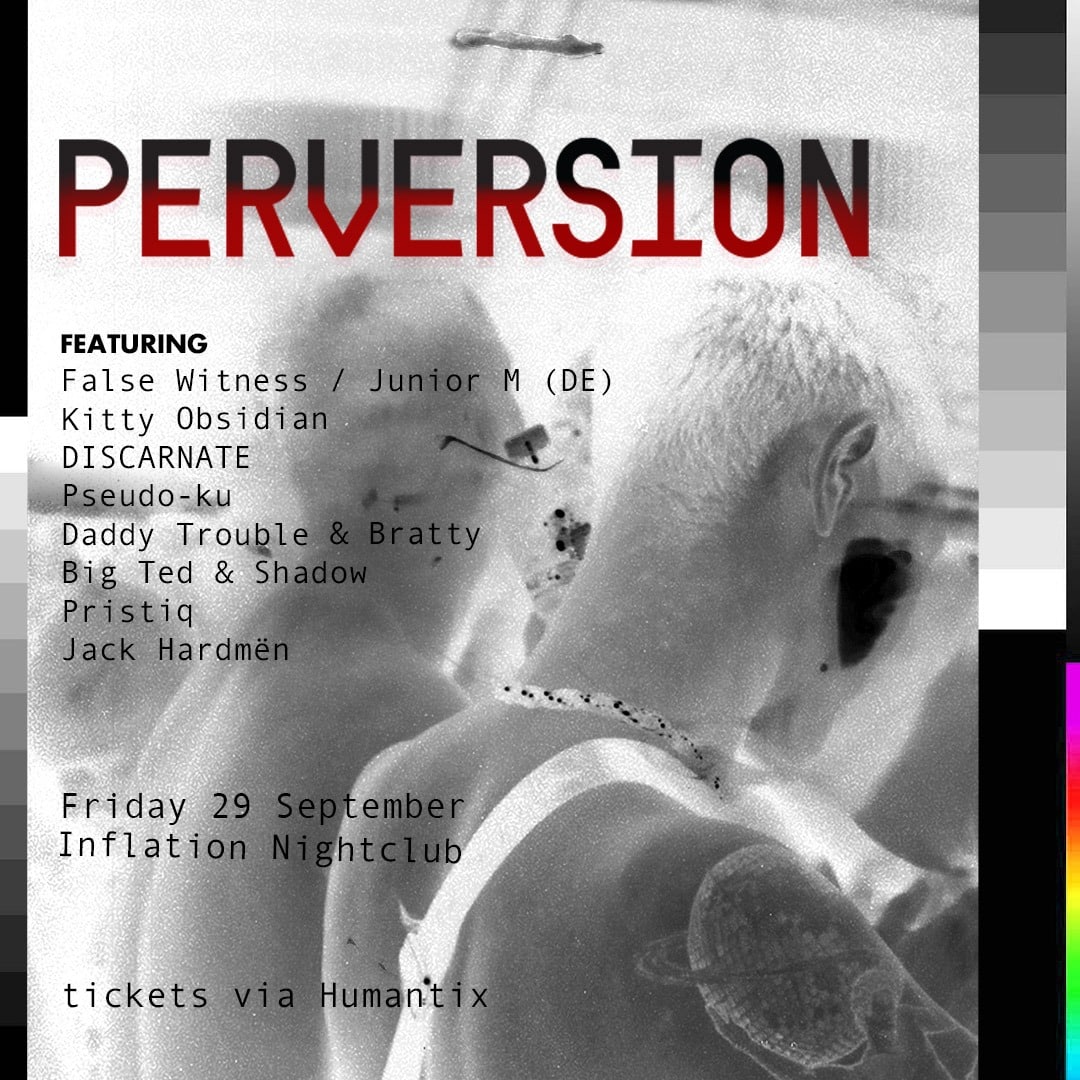 PERVERSION
Friday 29 September 2023
Inflation Melbourne
Featuring:
False Witness aka Junior M | Pseudo-ku | Pristiq | Jack Hardmën | DISCARNATE | Big Ted & Shadow | Kitty Obsidian & Himboy | Daddy Trouble & Bratty
The flagship dance party of Folsom Down Under. Inclusive; visible; proud. An event that celebrates sexually adventurous queer subculture through connection, dress code, exhibitionism, fetish, and dirty, filthy dance music
What to Expect
PERVERSION is a techno-heavy dance party featuring international and local artists. Immerse yourself in the music and euphoria. Your restraints are removed at PERVERSION
What's the look and feel of party? Imagine a Melbourne version of Folsom Europe's PiG party. Or look back on our first PERVERSION party in 2021 – the pictures courtesy of Dean Arcuri are at the bottom of this page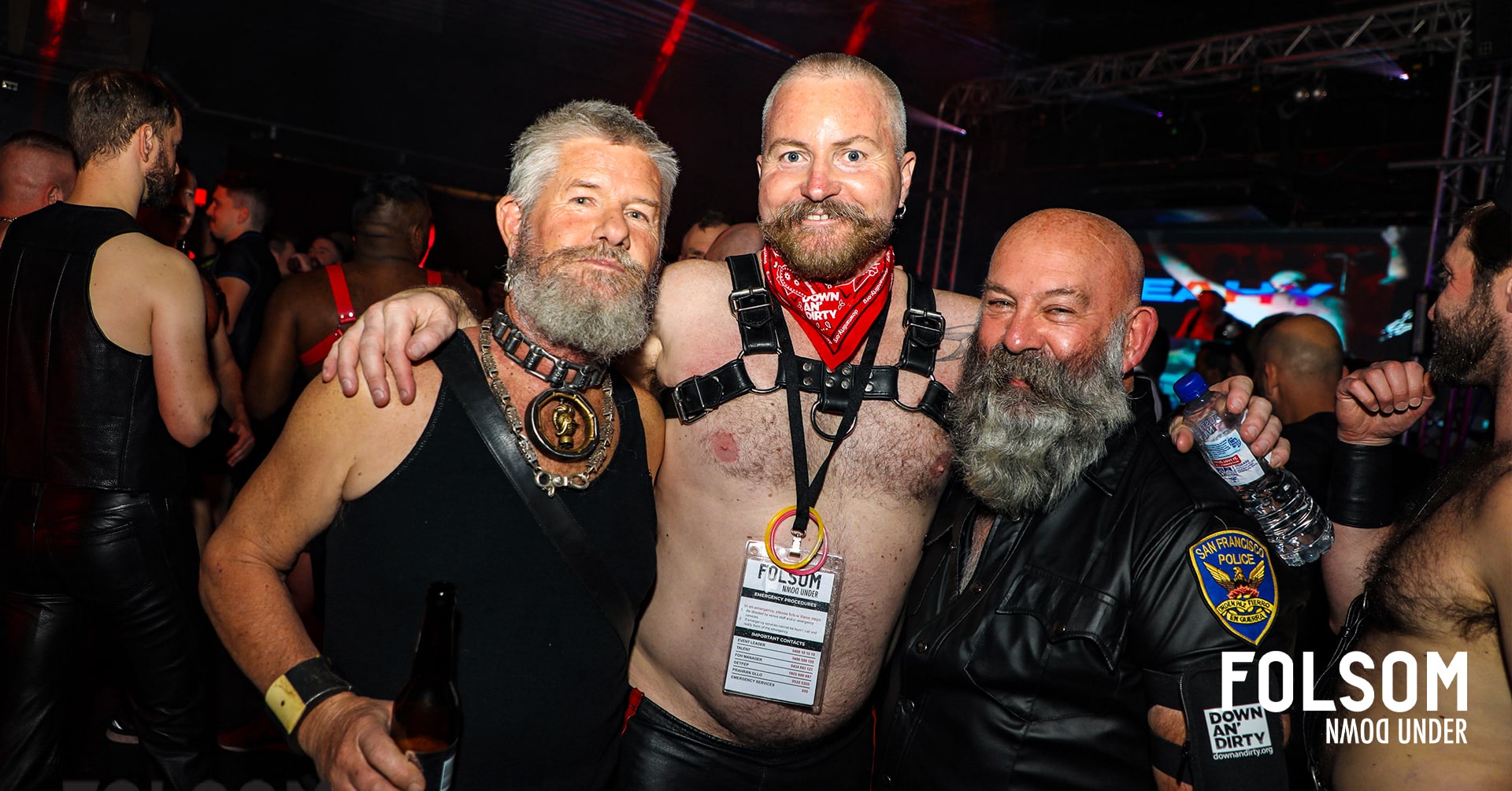 Folsom UBQ Takeover
With DEVIANTS postponed, Folsom Down Under is instead mounting a free-entry takeover of UBQ Collingwood on Saturday 4 March, 2023
UBQ, 108 Smith Street Collingwood
Gear-up and come join us from 7pm* for a Saturday social, and help us usher in the beginning of the autumnal equinox in Melbourne, and Folsom in Australia
This is a completely gender inclusive event however you need to be aged 18+ 🖤
*UBQ kitchen open 5pm to 9pm + Happy Hour 5pm to 7pm – feel free to come earlier and settle in if you'd like!
This is not a ticketed event
What: Folsom UBQ Takeover
When: Saturday 4 March, 7pm to 1am
Where: UBQ, 108 Smith Street Collingwood VIC 3066
How much: free!
DEVIANTS will return in March 2024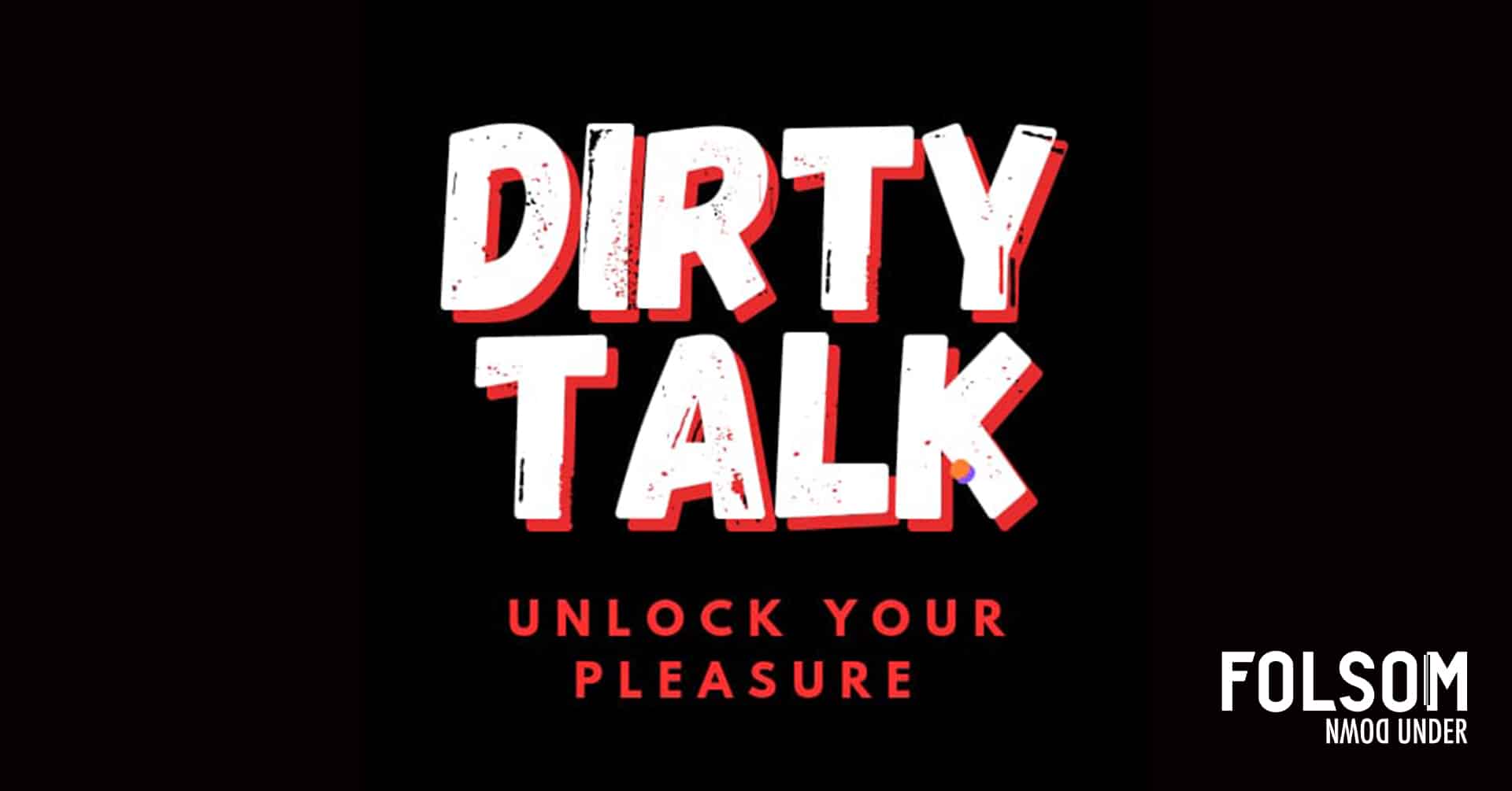 Dirty Talk with Jack Cannon

Better sex through dirty talk and sub/dom play, and other ways to get under someone's skin and amply pleasure
Wednesday 8 March, 2023, 7pm
UBQ Collingwood
Presented by Folsom Down Under
Ever find yourself wanting to say something sexy while being naughty but feel tongue tied, nervous of sounding stupid, or it just comes out wrong? Learn lots of ways to think about dirty talk and spend some time practising in a safe space with other kinksters. So when you find yourself in those hot heavy moments, dirty talk comes to you easily and with confidence.
Escort and creature of pleasure Jack Cannon will also share his tricks and tips to help communicate with a new lover or sexual partner so you can really understand what gets them off and why. You might learn things about your own preferences as well…
Jack will also talk about how he sets-up the boundaries of play when running a sub/dom play session and how to get the most out of your time and sex.
You're invited to bring a partner or a friend(s) who you enjoy being sexual with or want to learn more about. We will be talking and practicing with others in the class 1 on 1 or in small groups so be prepared to share and be open.
Visit our ticketing site for more details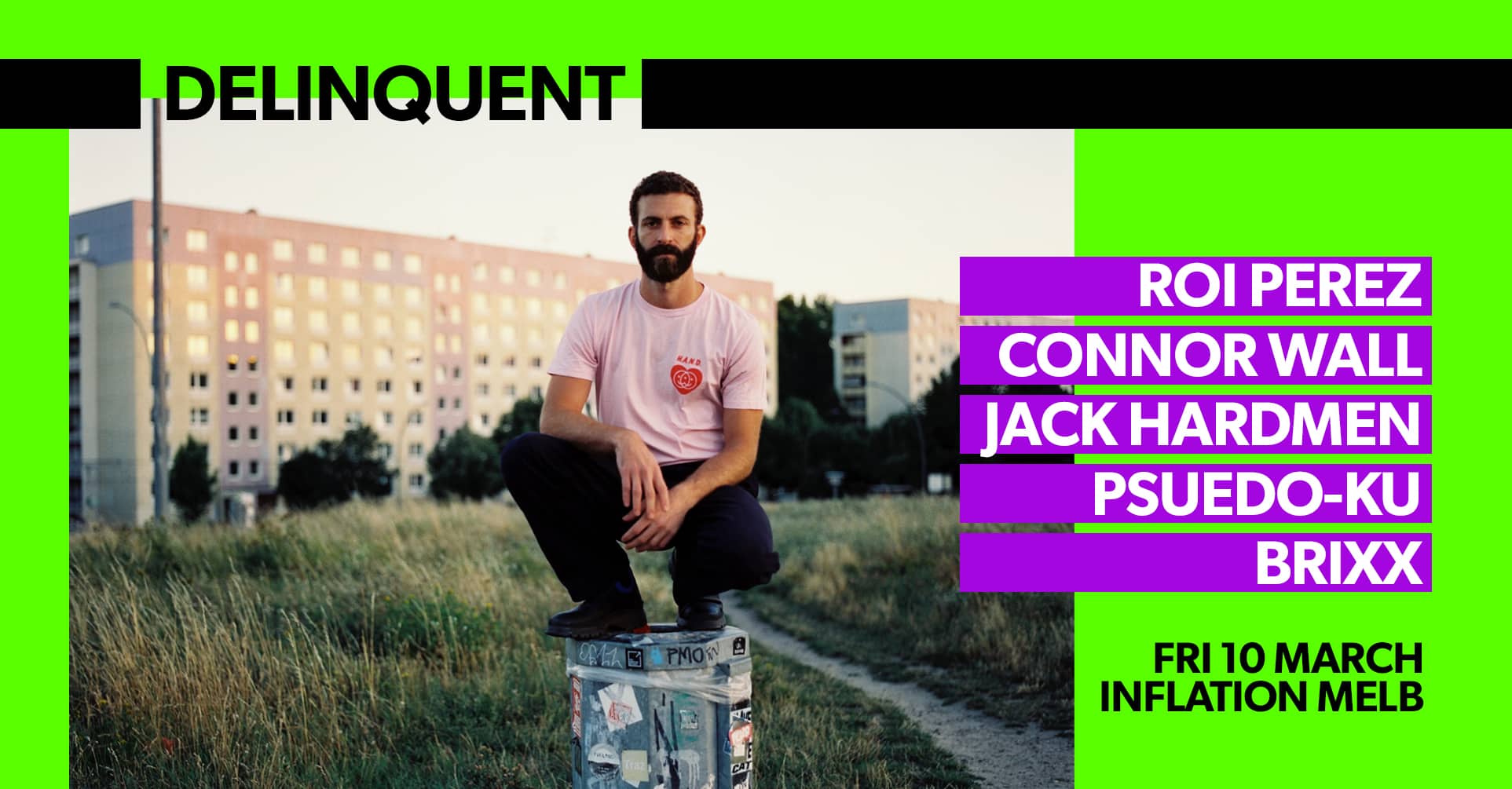 delinquent
Ft. Berlin legend Roi Perez
Friday 10 March, 2023, 9.30pm
Inflation Melbourne
Presented by BUFF Events especially for the Folsom Down Under March 2023 season
Also ft. Pseudo-ku | Brixx | Jack Hardmën | Connor Wall
In an offshoot of local favourite HOMO EROTICA, delinquent presents an evening of dance music euphoria with a Folsom look and feel. Think dark spaces, uniform worship, exhibitionism, and dirty, filthy techno music.
Roi Perez
Roi Perez is a DJ and music enthusiast. Hailing from Tel Aviv he started playing records in the city's queer club scene in 2011. Upon his move to Berlin two years on he continued his personal journey of establishing a coherent, creative and cheerful musical language, constantly refining his skills, style and knowledge until present day. Roi soon started playing Berlin's busiest dancefloors, including Berghain's Panorama Bar, where he holds a residency. Since then he's gone to playing worldwide – in sweaty club booths, open air and festival stages.
queer / sex-positive / clothing optional / techno heavy / gender inclusive

Visit the ticketing site for more details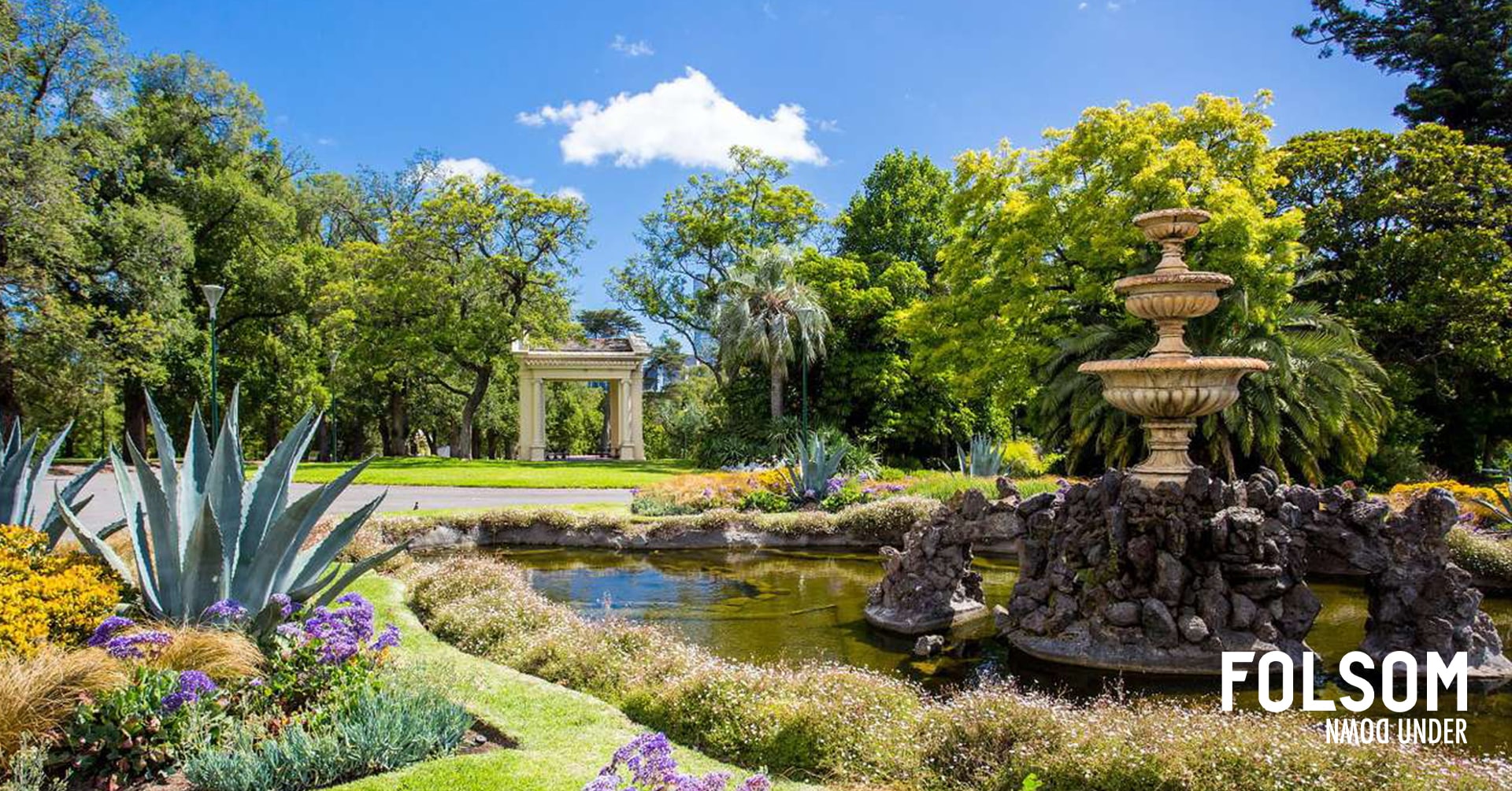 Picnic in the Park
Anyone for a finger sandwich?
Sunday 12 March, 2023, 12pm
Fitzroy Gardens East Melbourne
Pack a basket and a blanket, gear up or just throw on a pair of shorts and come chill a with your friends and community over a picnic lunch!
This boutique autumnal gathering is an opportunity to flag your kink in a public space, but in a very relaxed and informal way.
Average temperatures in mid March are in the low to mid 20ºC, often with loads of sun. Melbourne's well known for its capricious weather though so be prepared!
Do be SunSmart by following this advice from the Cancer Council.
You're invited to BYO food and beverages. This is not a managed event, so similar to most picnics with family and friends, you'll be responsible for your own needs. There'll be no additional facilities available to those already in and around the Gardens.
Note that responsible consumption of BYO alcohol is permitted in the City of Melbourne's public parks and gardens by individuals or groups of 50 people or less.
Please avoid bringing glass and please take your litter away with you 🖤
You'll find us at map references:
Google Maps Plus Code 5XQJ+745 East Melbourne, Victoria
(-37.8118601, 144.9803442)
This is not a ticketed event
WHO WE ARE
Folsom Down Under aims to nurture, protect, normalise and celebrate sexually adventurous queer subculture.
We're looking for a diverse group of kinksters, nudists, and fetish artists to join our team. Email us